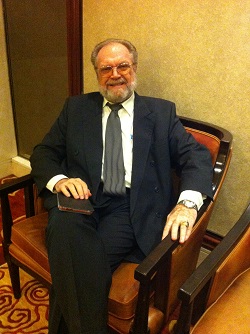 This is the page defining Zadok Lempert, PhD, Prof (emeritus) to THAT I AM ...
Sir Zadok S. Lempert

I AM
Zadok Severin Lempert, a Swiss national, since 2005 living in Thailand with wife Katharina.
Due to worldwide consultancy, audit and lecturing assignments, have become a 'world citizen' and continuously been living like a 'jet-age gypsy' - and enjoying every bit of it.
Certifications
PhD in economics and business-administration
CHE - Certified Hospitality Educator
MBA in Marketing and Financial Controlling
Professor for Tourism Development and Environmental Management
Experience
Some 40 years experience in international tourism and environmental management and has served intop-executive positions independently as well as with inter-national NGOs.
In 1976 became a pioneer in Special-Interest and Eco-Tourism and since then progressively specialised further in sustainable development, environmental management, humanitarian-sustainable economic-rehabilitation and development.
World-class networking expert, who draws on outstanding cross-cultural and multi-lingual facilitation and coordination skills. He established and continuously maintains international contacts to multi-governmental, national-governmental, NGOs and institutions, donor agencies.
Frequently participate in multi-national decision-making development committees, dealing with social-economic-ecologic enhancement, research and rehabilitation plans/programs as well as their funding campaigns, comprising members from the sectors: Multi-governmental institutions, national governmental initiatives, local governments and PPP (Public-Private-Partnerships), private sector, NGOs.
Repeatedly invited to speak at conferences, lecture in seminars, supervise project progress and reporting.
Functions
CEO of Panorama Group International Ltd.
CEO of I.N.S.T.E.A.D. – International Network for Sustainability, Tourism, Environment, Aid & Development
Knight Commander Sovereign White Knights of Malta - Order of St. Germain
Past Functions
Advisor to the Minister of Tourism in Thailand and designed the concept of Medical Tourism for the country.
Managing Director of Irene Tourism International – a tour operator specialising in expeditions to follow natural and cultural phenomenon worldwide.
CEO of Panorama Group Ltd., a Swiss company specialising in design, concept and structures, implementation, management of internationally funded sustainable humanitarian economic-ecologic-social community-development and tourism programs.
Chief Delegate UNDP/EU-ECHO/Caritas Rehabilitation Consortium to East- and Horn-of-Africa.
CEO of INEM - the World Federation of National Associations for Environmental Management, Cleaner Production and Local Agenda 21.
CEO of IFOAM - the World Federation of Organic Agriculture Movements.
Academic Research and Development Institutes
Faculty of Economics, Environment and Wildlife, Tourism – UNISA, University of South Africa, Pretoria.
Thai Ecotourism Institute – University of Srinakarinwiroth, Bangkok.
Asian Technology Institute – Asian Disaster Preparedness Institute, Bangkok.
AERC – African Economic Research Council, Nairobi.
AVU – African Virtual University, Nairobi.
IEEEI – International Economic Environmental Education Institute, Lund.
Faculty of Economy and Tourism Research Studies – University of Zheijian, Hangzhou.
Faculty of Economic Environmental Studies, Sheikh Zayed International Award Academy, Dubai.
UNDP Humanitarian Development Facilitation Sub Units, New York, Addis Abeba, Beirut.
UNESCO World Heritage, Office for Asia, Bangkok.
European Economic & Environmental Agency, Copenhagen, Division for Integrated Pollution Prevention and Control Directive.
OECD, Division for Economic Development, Eastern Europe and NIS.
UNIDO Industrial Investments and Economic Development, Vienna.
UNEP, Division of Technology, Industry and Economics, Production and Consumption Unit, Paris.
IULA - International Union of Local Authorities, Local Agenda21 and PPP Initiatives.
UN HABITAT, Sustainable Cities Division, Nairobi.
Initiation and coordination of the GEMS – Global Environmental Management Survey in CEE & NIS countries, funded by the European Commission.
Initiation and coordination of the EEBN – European Environmental Benchmarking Network Survey program, funded by the European Commission.
Initiation and coordination of the INEMIS – International Network for Environmental Management Information Systems program, funded by the EC, Germany, Sweden, CIDA.
Initiation and coordination of the POEMS – Productivity and Organisation of Environmental Management Systems in Communities and Industry projects in CEE & NIS countries, funded by the EC, Germany, Switzerland.
Participation on the Steering Committee of ABEI – Aarhus Business and Environment Initiative in CEE & NIS countries, funded by OECD.
Initiation and coordination of Euro-SOLAR in Housekeeping Initiative in Germany.
PATA Task Force Economic Research Project: China Yangtze River Delta Development Through International Marketing & Tourism.
Province of Guimaras, Philippines: Governor's Master-Plan of Provincial Economic Development.
South Africa "Green" and "White" Policy Research Papers on Master-Plan Environment & Tourism.
Memberships and Committees
Advisory Board, Bureau of Environment & Culture, PATA.
International Association of Academic Experts in Tourism, AIEST.
Advisory Board, Ecosystem Conservation Support Foundation, The Panorama Group Ltd.
Senior Representatives Group of the Baltic 21 Commission.
Member Steering Committee ABEI Aarhus Business & Environment.
Member OECD EAP Taskforce CEE & NIS Governments / Industry.
Member UNEP Consultative Group of Industrial Associations.
Observer UNIDO industrial investments and development council.
Member Swiss Federation of Professional Fundraisers.